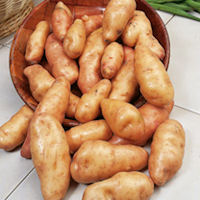 Pink Fir Apple is loved for its buttery, waxy texture and 'new potato' flavour, which lasts all the way into the new year! They are also one of the oldest varieties still in cultivation.
Don't be put off by their 'knobbly' appearance, as they're best boiled in their skin, which you can then peel off or eat. To ensure they store well, be careful not to damage them when lifing.
Pink Fir Apple holds an Award of Garden Merit from the Royal Horticultural Society (RHS).
Pink Fir Apple Seed Potatoes Are Available To Buy From: