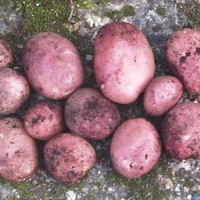 Mozart potatoes are perfect for growing in containers, producing a heavy crop of shallow eyed tubers, favourited for their great eating quality.
They have a waxy, firm and pale yellow flesh, and are very well suited for boiling.
Mozart potatoes are thought to be one the most resistant varieties where cyst eelworm or slugs are a concern.
Mozart Seed Potatoes Are Available To Buy From:
Sorry! Corrently Not Available.