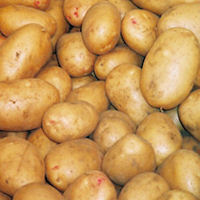 Lady Balfour is a Scottish bred potato, which is very well suited for garden growing. In particular it has excellent resistance to most major diseases, such as blight, scab and virus Y.
On top of this, it thrives very well in low-fertility soil and can be grown without the use of chemicals, making it the obvious choice for organic growers.
Lady Balfour has a firm and tasty flesh, best suited for boiling, or baking as a 'jacket potato'.
Lady Balfour Seed Potatoes Are Available To Buy From: