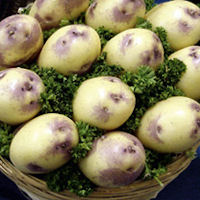 Kestrel is a smooth skinned potato with purple eyes, making it a prize winner at may exhibitions. It has an old fashioned flavour and produces high yields.
It is a very good potato for roasting, as well as for making chips, because its soft flesh doesn't absorb a lot of fat.
Kestrel potatoes have proven themselves to be highly resistant to slugs, eelworm and blackleg.
Kestrel Seed Potatoes Are Available To Buy From: