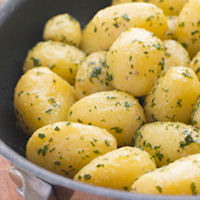 International Kidney is a brililliant second early or early maincrop potato, also marketed under the name 'Jersey Royal' when grown on Jersey.
Under this brand, it's a very well known and extremely popular potato, so here's your opportunity to grow your own.
International Kidney is a versatile and delicious potato, ideal for boiling, steaming or mash.
International Kidney Seed Potatoes Are Available To Buy From: