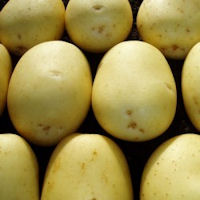 Hunter Potatoes are highly resistant to both foilage and tuber blight, which if it's a problem where you grow your potatoes can ruin all your crop in a matter of days.
They are also ideal for organic growing, because they don't require high volumes of fertiliser to deliver a high yield.
Hunter is a good all rounder for cooking, and has a lovely distinct flavour.
Hunter Seed Potatoes Are Available To Buy From:
Sorry! Corrently Not Available.