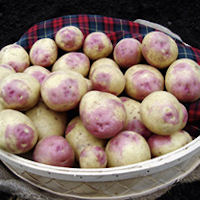 Bonnie is another variety you should seriously consider growing if you are a show bench exhibitor.
It delivers a decent crop of even-sized tubers with bright skin and a splash of red colour around their shallow eyes.
They have a general good disease resistance, so they are easy to grow, and in the kitchen they're ideal for boiling and baking.
Bonnie Seed Potatoes Are Available To Buy From: