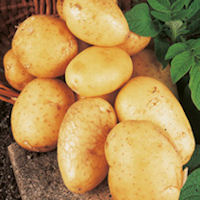 Valor is one of the latest maturing maincrop potatoes – but many growers agree that they are well worth the wait.
They give an excellent yield of large tubers with creamy coloured flesh, which will store well over winter. They have a firm dry texture, making them a good choice for boiling and baking.
Valor is a vigorously growing potato with excellent resistance to diseases, so they're a good choice for the novice grower.
Valor Seed Potatoes Are Available To Buy From: