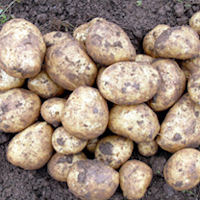 Toluca potatoes are the ideal choce for you if you have been growing potatoes in the past, and had them wiped out by blight.
They are an excellent early maincrop variety, offering better resistance to blight than any other potato on the market.
Toluca potatoes fare well in the kitchen as well, with versatile easy-cooking properties, so they can be used for almost any potato dish.
Toluca Seed Potatoes Are Available To Buy From:
Sorry! Currently Not Available.