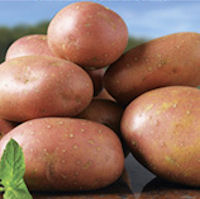 Rooster is an excellent potato with all-round good cooking properties. It combines delicious taste with a floury texture, and produces high yields of pink skinned oval tubers with yellow flesh.
They are ideal for roasting and mashing, but really steps into character when used for chips, for which they are absolutely outstanding.
Rooster has high resistance to various potato vira, and is a good choice for the novice grower.
Rooster Seed potatoes Are Available To Buy From: