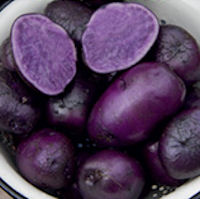 Purple Majesty is the potato every one is talking about, and should you choose to grow it, it will be talked about round your dinner table as well.
The reason for this is that it has the taste and texture of a 'normal' potato, but it has a vivid purple flesh which retains its colour during cooking, resulting in some interesting chips, crisps, mash, jackets or what ever way you chose to cook them.
High contents of antioxidants makes the Purple Majesty potatoes a healthy choice as well.
Purple Majesty Seed Potatoes Are Available To Buy From: