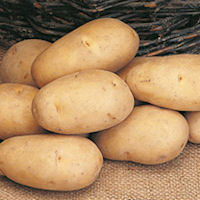 Maris Piper is a great maincrop potato to grow for the beginnner. It produces high yields of mild flavoured tubers, which are excellent for making chips, as your local chippy will confirm.
They also do very well when baking or roasting, in fact, they have good general cooking qualities.
Maris Piper is best grown on silty soils, but will do OK in most good, loamy soils. They are resistant to Golden eelworm, blight and blackleg. As it's a popular choice to grow, you want to order your seed potatoes early on, as they sell out fast.
Maris Piper Seed Potatoes Are Avaialble To Buy From: