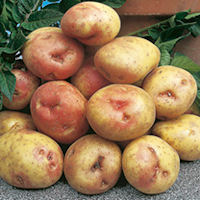 King Edward potatoes are well known for their excellent flavour, especially when roasted or baked. They are the only heritage potato available to buy in supermarkets today.
The creamy-white, floury flesh has a characteristic strong, aromatic flavour.
King Edward potatoes must be grown in a rich soil with plenty of organic matter to be a success. They will not do well on heavy, acidic or sandy soils. Their resistance to rot and scab is good, but they are susceptible to drought.
King Edward Seed Potatoes Are Available To Buy From: