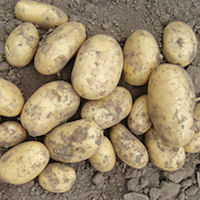 Isle Of Jura is a high-yielding potato variety, producing large oval, white skinned tubers with cream coloured flesh.
Their flavour is excellent and they will do well whichever way you choose to cook them.
Isle Of Jura has all-round good disease resistance, making them a good maincrop choice for beginners.
Isle Of Jura Seed Potatoes Are Available To Buy From:
Sorry! Not Currently Available.