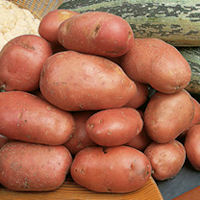 Desiree is a high yielding variety with firm, waxy-fleshed tubers of distinctive flavour.
It is an excellent all-round potato that cooks equally well whether boiled, mashed or made into chips.
Desiree is perfect to grow if your soil is heavy, with large amounts of clay in it, and it will do well on poor soil as well. Withstands drought.
Desiree Seed Potatoes Are Avaialble To Buy From: