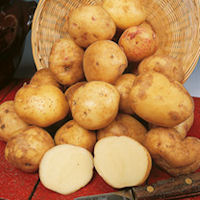 Cara potatoes are an Irish variety producing high yields. The tubers are smooth and shallow eyed, which makes them perfect for exhibitions.
The tubers are beautifully rounded white and pink, with floury white flesh, making them good for baking potatoes.
Cara thrives best on light soils, has good resistance to blight and stores very well.
Cara Seed Potatoes Are Available To Buy From: