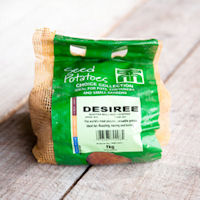 Maincrop potatoes are those varieties you buy with a view to storing and using over winter. You can usually start lifting them around 4 weeks later than the first earlies (2 weeks later than second earlies), at which time they will pass as new potatoes. Their real strength, however, lies in letting them grow to maturity and lift them for storage to see you through the winter period.
Although some of them are firmer in the flesh than others – the general rule is that maincrop potatoes tend to be more floury in the flesh – due to them containing more starch. This makes them excellent for producing chips, roast potatoes and mash, while you need to be careful not to overcook when boiling them.
Maincrop potatoes should be lifted towards the end of the growing season, and stored appropriately in a dark, frost free area.
Following is a list of maincrop potatoes available from the featured seed merchants on this website (Click Links For Details):
Cara - Irish potato variety – ideal for baking potatoes
Desiree - A good all-round table potato
Isle Of Jura – Perfect for the garden – and the first time grower
King Edward – The nation's favourite potato – excellent for baking and roasting
Maris Piper – Great for beginnners – the chippy's choice
Picasso - Excellent baking potatoes with a mild flavour – RHS Award
Purple Majesty – The potato everyone is talking about – unique colour
Rooster - Good all-round potato – excellent for chips
Toluca - Superb early maincrop potato – excellent resistance to blight
Valor - A late maincrop potato – but well worth the wait