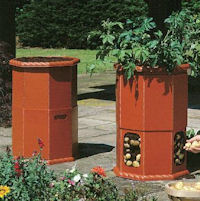 Growing potatoes in containers is fun, easy and hugely satisfying. But starting out doing it – how do you get about getting set up?
Most garden centres and online seed merchants will offer you potato growing kits now-a-days, with the appropriate amount of seed tubers to go with them, to get you up and running.
The kind of potato planting kit you end up with is largely up to your level of ambition and your budget. If you're just setting out, and you're unsure whether growing potatoes in containers is for you, try one of the cheaper kits. If on the other hand you're planning to keep it going, getting o´ne of the more expensive kits could make sense.
Below is some of the potato planing kits available to buy online: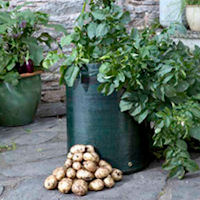 Bargain Patio Potato Growing Kit

These woven polythene planters come complete with handles, drainage holes and enough seed tubers to grow up to 27lbs of new potatoes. Once you've harvested your potatoes, the bags will fold away and store for next year. The whole kit is less than £15.00 to buy.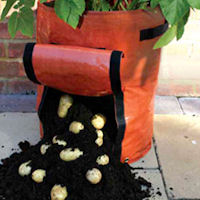 Patio Potato Planter Kit
This patio potato planter is not too dis-similar to the kit above, but it has the smart feature of a velcro edged panel on front that you can lift up and get to your harvest without taking the top. That way you can take out just the amount of potatoes you need. They are sold in packs of 2 at £9.95. Add to this the cost of buying the seed potatoes.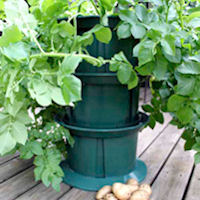 Stackable Potato Planter
This sturdy stackable potato planter has been specially designed to emulate the action of 'earthing up', which means you keep covering the potato plant with compost until it reaches the top. It has a much bigger capacity than the grow bags above, so allows you to grow maincrop potatoes as well. You can buy 1 planter for £23.95 – and 2 for £39.90.