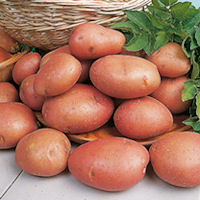 Vanessa Potatoes are like a very early Desiree (maincrop). Their tubers are smooth with red skin, making them ideal for exhibitions.
The flesh is a general waxy type, very well suited for boiling, but can also be baked. Excellent for salads.
Vanessa potatoes are a tried and tested attractive early red potato.
Vanessa Seed Potatoes Are Available To Buy From:
Sorry! Currently Not Available.