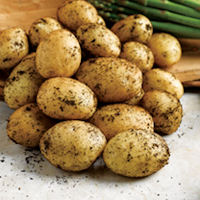 Vales Emerald has been bred from the Charlotte potato, and trials so far have produced brilliant results. They deliver a good crop of uniform round tubers with firm waxy flesh and outstanding taste.
Vales Emerald potatoes hold an Award of Garden Merit from the Royal Horticultural Society (RHS).
Vales Emerald Seed Potatoes Are Available To Buy From:
SORRY! Not Currently Available.