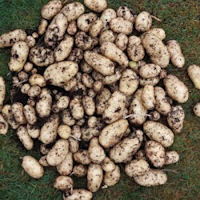 Sharpes Express potatoes are true heritage potatoes, having been going strong since 1901. There is a good reason why this old favorite is still going strong.
They are early to bulk up and offer a superb flavour. The slightly lemon coloured flesh is firm, so unless you harvest them all as new potatoes, will produce some excellent chips once mature.
The tubers are long oval with shallow eyes, and have good resistance to common scab.
Sharpes Express Seed Potatoes Are Available To Buy From:
Sorry! Currently Not Available.