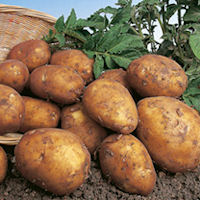 Rocket potatoes are one of the earliest potatoes out there, which is possibly how it got its name, yet it produces a high yield.
The flesh is pure white, firm, waxy and with good flavour. Many growers have been delighted with how early and easy to grow they are.
Rocket potatoes are resistant to blackleg and potato cyst eelworm, and produces uniform round tubers of exhibition quality.
Rocket Seed Potatoes Are Available To Buy From: