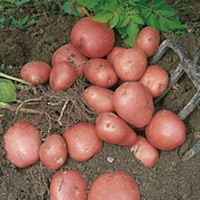 Red Duke Of York potatoes are one of a select few early potatoes with red skin. They are also one of the few heritage potatoes that are commercially available, due to their vigorous growing habit.
As an early potato they have a fine flavour, but if you leave them to mature, the tubers will grow big enough to turn into baking potatoes and chips.
Red Duke Of York potatoes hold an Award of Gardening Merit from the Royal Horticultural Society.
Red Duke Of York Seed Potatoes Are Available To Buy From: