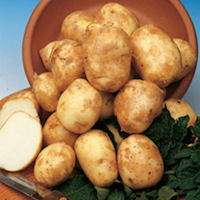 Pentland Javelin is a popular early potato. It matures later than most other first earlies, but the reward is usually a high yield.
They are popular for their waxy, mild tasting flesh. Flavour is good. They can be left in and stored as maincrop if desired. If you decide to do this, they are very well suited for boiled potatoes and for making chips.
Pentland Javelin is resistant to golden eelworm and scab.
Pentland Javelin Seed Potatoes Are Available To Buy From: