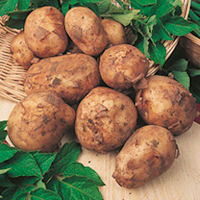 Maris Bard potatoes are known as very early maturing variety, producing a heavy crop with a distinctive 'new potato' flavour.
They have a good resistance to drought and viruses, so they're easy to grow. Also, they are excellent for forcing in a greenhouse, or under plastic cover.
The creamy white coloured flesh is soft and waxy and Maris Bards can be cooked like you would normally cook new potatoes.
Maris Bard Seed Potatoes Are Available To Buy From: