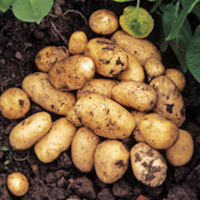 Lady Christl potatoes are an excellent first early variety that bulks up early in the season and can be harvested after just 8 weeks of sowing. Freshly dug, not many potatoes will give you better taste.
The smooth and creamy tubers are easy on the eye, and often used for exhibition. The flesh is firm and waxy, and they are good for boiling, steaming and sauteeing.
Lady Christl potatoes have been given the Award of Garden Merit from the Royal Horticultural Society (RHS). They are an excellent variety to grow for beginners.
Lady Christl Seed Potatoes Are Available To Buy From: