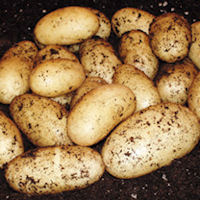 Juliette potatoes are a relatively new entry on the market – a modern rival to Charlotte – and some dare say they have an even more waxy texture and fine flavour.
The tubers produced are long and oval in shape, small to medium in size, and with good crops to be expected from each plant.
They are ideal for use in salads, and can be cooked like you would cook any early potato.
Juliette Seed Potatoes Are Available To Buy From: