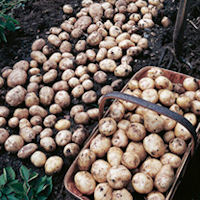 Foremost potatoes is a classic favorite, introduced by Suttons more than 50 years ago, and as such a heritage potato. They have a good reputation for high yields, flavour and slug resistance.
They cook well, with firm and waxy flesh when they are young, going slightly floury when reaching maturity.
Foremost potatoes hold an Award of Garden Merit from the Royal Horticultural Society (RHS).
Foremost Seed Potatoes Are Available To Buy From: