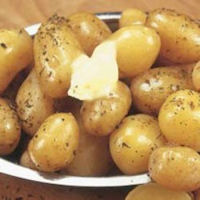 Annabelle is a first early potato known to deliver a good crop of oval shaped, medium sized tubers. They have a mouth watering, waxy flesh, which is buttery yellow in colour. Annabelle potatoes are perfect for making potato salads.
The Plants have a compact, tidy growth habit, so they're ideal for growing in containers or potato Gro-Sacks.
Annabelle Seed Potatoes Are Available To Buy From:
Sorry! Corrently Not Available.