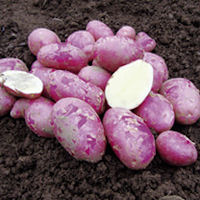 Amorosa is a very early, rosy-red salad potato, pretty and smooth when small, rougher when it's mature and more multi-purpose in use.
It boasts high yields, red skin, yellow flesh and oval tubers. Amorosa potatoes maintain their good flavour throughout the growing season and has moderate desease resistance.
They can be cooked any way you would normally cook early potatoes, and can even be roasted and made into chips at the end of the season.
Amorosa Seed Potatoes Are Available From:
Currently Not Available