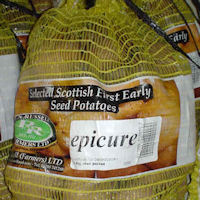 First earlies is the group of potatoes that will grow to maturity the fastest, as the name would suggest. The time from planting out until maturity is about 100 days, so that's when you can start lifting them. This period can be shortened if you can keep them under cover for the first 6-8 weeks.
First earlies will store in the ground for about 4 weeks after reaching maturity, and should be cooked as soon as possible after lifting, to get the fresh taste that only new potatoes will deliver.
Following is a list of first early potato varieties available from the featured seed merchants on this website (Click Links For Details):
Accent – Great resistance to garden pests
Accord – An attractive first early with tasty creamy-white tubers
Amorosa – Stunning red First Early
Annabelle – Mouth Watering – Ideal for grow bags & containers
Anya – Excellent 'nutty' flavour
Casablanca – Good cropper and tasty too!
Charlotte – The Chefs' choice – RHS Award
Elisabeth – Best potato for container growing
Foremost – Classic potato with excellent flavour – RHS Award
Juliette – A great flavoured salad potato
Lady Christl – High yielding with great new potato flavour - RHS Award
Maris Bard – High Yielding First Early Potato
Pentland Javelin – A white waxy potato
Red Duke Of York – A Heritage potato! - RHS Award
Rocket – Uniform Exhibition quality tubers
Sharpes Express – True Heritage potato – going strong since 1901
Swift – The fastest cropper on the market – ready in just 7 weeks
Vales Emerald – Excellent new potato – RHS Award
Vanessa – Ideal for exhibition use
Winston – Excellent baking potato – RHS Award