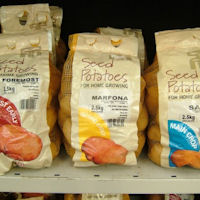 Before you jump in at the deep end and order multiple packs of seed potatoes, you should take some time to plan a bit in advance, and be clear about what you want to grow and why?
Different kinds of potatoes have different properties. Some varieties are more prone to diseases, so they are more difficult to grow, while others are more resistant and easy to grow for a novice. Also, you need to take into account the amount of growing space you have available, as particularly maincrop potatoes take up a fair bit of growing space.
Then you have to take into consideration how you are going to consume your harvest. Are you just wanting to have your own fresh grown potatoes in summer – when they come at a premium in the shops – or do you want to store them for winter?
Finally you need to take into account your favourite dishes, as some potatoes are better suited for boiling/mashing, while others are outstanding for chips, jackets and roast potatoes.
Coming up with a guide to cover all bases would be quite a task, but maybe one day I'll find the time to come up with one. Until such time The Potato Book
by Alan Romans is the best resource I know of and would recommend.
What I can say is that if you have limited growing space, or plan to grow your own potatoes in containers, your best option is to grow first earlies or second earlies. If growing space isn't an issue – go on and shop for those seed potatoes – but be careful you don't go over board. Unlike other vegetable seeds, your seed potatoes will not store for use next year.