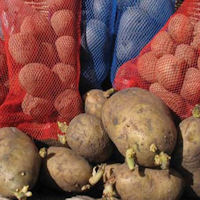 January is the time of the year to start thinking about what kind of potatoes you want to grow in the season ahead. Before the end of the month, seed potatoes will be available to buy, allowing you time to 'chit' them before planting out from mid-march and onwards.
Why Should You Be Buying Seed Potatoes?
There has been much debate among potato growers as to whether buying seed potatoes is necessary or not. Why not just keep some potatoes left over from last years crop – or just buy a bag of potatoes from the supermarket? After all – that offers much more 'value for money', as seed potatoes tend to cost 4-5 times as much as those on offer in the shops.
Whereas it is perfectly possible to grow potatoes that way, in my own experience, it is not worth the saving – and certainly not the amount of trouble you could be headed for.
First of all, identifying the kind of potatoes you are growing can be very difficult, with a few exeptions, when you buy from the supermarket. They are usually classed as 'reds' or 'whites' – so you can only be sure of what you're growing if you buy a bag of named potatoes such as 'King Edwards' or 'Maris Piper'.
Also, shop bought potatoes are more prone to the wide array of viruses and diseases posing a threat to your potato growing adventure. Since commercially grown seed potatoes has been grown in sterile soil, they're certified disease free, so you can expect a better crop from them as well.
Last, but not least, shop bought potatoes are meant for eating, so they are much bigger than seed potatoes and you will not get anywhere near the amount of plants out of a shop bought bag of potatoes.
Where To Buy Seed Potatoes.
The first place most people would think about going to for seed potatoes would be their local garden centre or DIY store, both reasonable places to go, as they will both have a good range of the most popular varieties.
But, if you're feeling a bit more adventurous, you should take a look at the online seed merchants (the four main dealers are listed in the menu on the right). Here you're quite litterally going to be spoilt for choice, with some of them offering more than 30 different varieties for sale.
Finally, a source that you should never rule out is eBay, simply because it's a good source of great deals where you sometimes can buy straight from wholesalers. Also it's a really good source if you're looking to grow heritage/heirloom potatoes. The one thing you do need to keep an eye on when buying seed potatoes on eBay is that you do buy from a reputable source, and that you don't end up paying more in posting charges that you would with other online retailers.